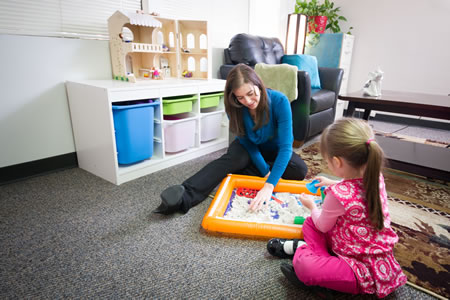 We're Often Asked This Question By Concerned Parents...
And the simple answer is, "Yes."
You see, our compassionate child therapists have helped hundreds of children reach their full potential.
And we'd like to do the same for your son or daughter...
Perhaps your child's pediatrician or teacher has suggested a diagnostic label, but whether you've been given a label or not, uneasy parents often request a consultation with us because they can sense that "something is just off" in their child's life.
Whatever the circumstances, it is important for you to know that you are not alone. The truth is that thousands of Denver parents – intelligent, successful, and kindhearted men and women - are also looking for ways to help their children overcome psychological and behavioral issues. But, like you, they often have more questions than answers...
There's no good reason to allow this to continue, not when the help your child deserves is just a few clicks or a phone call away (AMI's main number is 720-316-2321).
What Is Child Therapy?
In addition to evaluating children with undiagnosed issues, our skilled, compassionate, and non-judgmental child therapists treat all of the following common childhood psychological and behavioral issues:
Low self-esteem
Chronic anger; destructive and cyclical patterns of behavior
Bullying or abuse at school; difficulty with peer relationships
Grief from an unexpected crisis or loss
Gifted children not currently meeting their potential and / or needing to improve their social skills
Negative effects of divorce, remarriage, and / or the blending of families; Grandparents raising their grandchildren
Many parents have tried repeatedly to improve their child's situation on their own, but somehow his or her problems only seem to worsen with time. That's why it's vitally important for you to get the professional help your child deserves.
Please, contact AMI today, either by phone at 720-316-2321 or by simply entering the information requested on our secure online consultation form. We'll answer your questions and when you feel ready, we'll schedule a private consultation with one of our center's doctors.
Why Choose The Awakened Mind Institute (AMI) at Denver Psychotherapy Center?
First, we've personally witnessed the tremendous gains our young clients have achieved – regardless of any past unsatisfactory experiences they may have had with other child counselors.
AMI's expert child therapists are highly trained, compassionate, non-judgmental professionals who use empirically validated approaches such as play therapy, and mindfulness-based cognitive to improve the quality of life for the children they treat, as well as their families.
Second, our children's parents are not willing to compromise their high standards - especially when it comes to something as important as choosing a therapist for their son or daughter.
What's more, they know that we're worth every penny they pay us because our doctors have provided many children with the knowledge, insights, and skills they need to live more peacefully in the moment and look forward to brighter futures.
So, now these children:
Are fundamentally more relaxed and aware
Are able to create new and stronger relationships at home and school
Feel more confident about their abilities
Make healthier choices
Accept and express themselves authentically and make honest decisions without fear
Are more naturally motivated to transform their fears into patience, love, openness, and compassion
Experience significant decreases in depression, anxiety, and stress
And We Want You And Your Child To Experience These Benefits As Well
So please contact us today by phone at 720-316-2321 or email, by simply entering the information requested on our secure online consultation form. We'll answer your questions and / or schedule a private consultation with one of our center's psychotherapists. And remember, all inquires are held in the strictest confidence; we will never share your personal information or the nature of your call or email with anyone for any reason.
And while we've personally witnessed the tremendous gain our child client have achieved, we also recognize that seeking counseling can be a difficult decision, but made easier when you can reach out to a trusted expert who is committed to helping your child reach his or her fullest potential.
Child counseling is simply one of the wisest investments you can make for you, your child, and your family's emotional, physical, and spriritual health and happiness. It will be one of the best decisions you'll ever make.